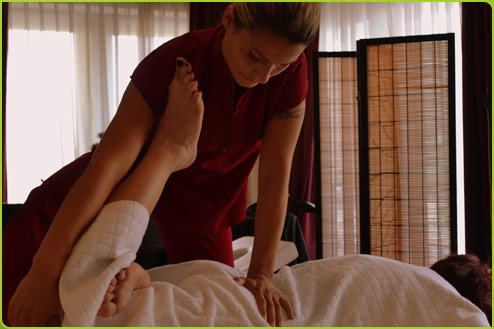 Aromatic oils massage
Loosen up !
As its name indicates, an anti-stress massage will free you from stress and physical tension to offer you a session of true relaxation.
Performed with essential oils, it consists of a whole body message (feet, legs, back, shoulders, neck, scalp, face), carried out by means of slow, fluid and harmonious motions as well as with different breathing methods. This is a true meeting of body and spirit.
Benefits

Anti-stress

Reduces fatigue

Improves the state of burn-out

Diminishes insomnia

Practical Information

Dress : under garments

Product : heated essential oils

Duration: 60 min, 90 min, 120 min

Extra : in combination with deep cleaning of the back or feet, for an additional charge of 20 euros.

Contra-indications : recent post-operative patient, pregnancy at risk, phlebitis, febrile syndrome, advanced cancer
Available in massage :
A relaxing time to share

An evening without the children ? A lovers' weekend ? Or do you simply want an original Saint Valentine's Day ?

Take the time to rediscover each other, you and your other half, benefiting at the same time from a massage performed by two massage therapists.

Whether at home or in the centre, you will be side by side, in order to relax together and share an extraordinary moment of gentle pleasure with your loved one...

Twice as more relaxed

Simultaneously realized by two massage therapists, this massage increases the feeling of relaxation and provides a feeling of plenitude rarely felt.

The synchronized movements of the four hands on your skin let you achieve a total harmony of your body and your mind.